Should I be doing my own bookkeeping and accounting? Is QuickBooks the best software for me to use in my business, or is there another accounting software I should be using? What's the best way for me to process my payroll? How can I track my money and cash flow? How do I prepare for my business taxes? What do my financial statements really mean? How can I bring my business to the next level? How can I grow my business? What is the best way to create my business strategy? Should I start a side hustle? How can I add bookkeeping as an additional service as a Virtual Assistant? How can I start an online virtual bookkeeping business? And most importantly, how do I manage my small business finances? Welcome to Mastering Your Small Business Finances where we get straight to the point and answer all these questions and more. Each episode is designed for you to take IMMEDIATE ACTION in your business so that you, as a busy entrepreneur, can gain the CONFIDENCE and CLARITY you need to make a successful impact on your business and GROW YOUR BOTTOM LINE. Each week, host Chris Panek, Certified Public Accountant, Business Strategist and Business Coach, breaks down topics like finances, entrepreneurship, money management, leadership, bookkeeping, tax deductions, growth, side hustle, marketing, mindset and motivation into simple JARGON-FREE episodes. One of her strengths is helping small business owners navigate and really understand these complicated topics for over 25 years. Whether you are just starting your business or have an established business, you are in the right place. If you are a bookkeeper or virtual assistant who wants to learn more about business finances to start, grow or scale your bookkeeping business, you too will benefit from this podcast. Ready to Master Your Small Business Finances? Listen in ~ your time will be well spent here! This podcast is sponsored by Financial Adventure. Visit www.FinancialAdventure.com for additional information and free resources.
Episodes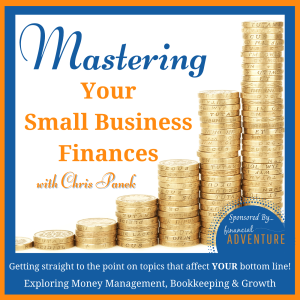 Wednesday Mar 22, 2023
Wednesday Mar 22, 2023
A common question I receive from clients is how they should be recording their loans in QuickBooks.  I often see clients set up their loans the wrong way.  They will sometimes appear on a report where they shouldn't be, which can throw off any tax planning the client is trying to do.  I know clients are trying their best and working hard to keep up with their bookkeeping, but every month when they record their loan payments, they know they are not doing it correctly, and it lowers their confidence when it comes to relying on their financial statements to make sound business decisions.  In today's podcast episode, I'm covering all the steps you should take when you have a loan in QuickBooks.  Once you have this process in place, it really makes recording your transactions easy, and you'll gain the confidence you need so that you can start relying on your financial statements again.  Whether you are starting a business or side hustle, you're a self-employed individual, a solopreneur, entrepreneur, mompreneur, freelancer, small business owner, a remote, virtual, online, or in-house bookkeeper, or a virtual assistant or VA; most businesses will have a loan at some point in time, and knowing how you should be recording all the transactions involved with your loan will help you create accurate financial reports that you can use not only in your business but for filing your tax return as well.  These tips are essential whether you are using a computerized software system like QuickBooks, Xero, Wave, FreshBooks, or HoneyBooks for your business finances; or doing your bookkeeping manually with an Excel spreadsheet or even a Google Document…
Accountants, CPAs, Bookkeepers, Tax Preparers & Financial Professionals, sign up here to be entered into a drawing for one of 5 coaching packages:
https://www.financialadventure.com/accountant
Ready to set up your business?  I have a program I'm creating to help you get your business set up so that you can start making money.  Sign up for this program here:
https://www.financialadventure.com/start
Are you ready to try coaching?  Schedule an Introductory Coaching Session today.  You'll have the opportunity to dip your toes in and see how you like coaching with an affordable Introductory Coaching Session.  I'll spend the whole time coaching you on anything you'd like coaching on in your business or your personal life:
https://www.financialadventure.com/intro
Schedule a free consultation, and we'll work together to dive into where you'd like to see yourself and your business in the future.  We'll create a laser-focused plan, including which action steps you need to take to get started on the path to success:
https://www.financialadventure.com/work-with-me
Join us in the Mastering Your Small Business Finances PROFIT LAB if you are ready to take control of your business finances and create the profitable business you are striving for.  Are you ready to generate revenues and increase the profit in your business:
https://www.financialadventure.com/profit
If You Are Ready To Choose, Start Or Grow Your Side Hustle, Get Your Free Checklist And Assessment Here:
https://www.financialadventure.com/sidehustle
Grab Your FREE guide:  5 Essential Strategies For Stress-Free Bookkeeping:
https://www.financialadventure.com/5essentials
Your FREE Online Virtual Bookkeeping Business Starter Guide & Success Path Is Waiting For You:
https://www.financialadventure.com/starterguide
Join Our Facebook Community:  https://www.facebook.com/groups/womenbusinessownersultimatediybookkeepingboutique
The Strategic Bookkeeping Academy, including Bookkeeping Basics, is open for registration!  You can learn more and sign up here:
https://www.financialadventure.com/sba
Looking for a payroll solution for your business?  You can get an exclusive 15% discount on your payroll services when you sign up here:
https://www.financialadventure.com/adp
QuickBooks Online - Save 30% Your First 6 Months:
https://www.financialadventure.com/quickbooks
Sign up for a virtual coffee chat to see if starting a Bookkeeping Business is right for you:
https://www.financialadventure.com/discovery
Show Notes:  https://www.financialadventure.com
This podcast is sponsored by Financial Adventure, LLC ~ visit https://www.financialadventure.com for additional information and free resources.